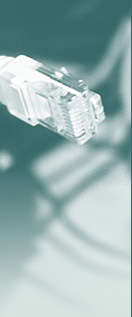 &nbsp
1.
Consulting:
Analyze client needs; Provide advise to client for their independent action.
2.
System Design:
Research system hardware, equipment, commercial and custom software interaction requirements to meet to the client's current and future needs.
3.
Network Design:
Define network operating systems, equipment, wiring, and protocols to meet client's existing installation base and future needs.
4.
Internet Servers:
Install and configure internet servers (UNIX, Linux, Microsoft BackOffice) for services such as web, SMTP, POP3, FTP, Proxy, and firewall, etc. This service can include intranet and internet routing and integration.
5.
Acquisition:
Procure hardware and software applicable to client's needs.
6.
Application Development:
Design and develop customized applications and programs.
7.
System Integration:
Integrate different hardware and software components into a total, seamless solution.
8.
Data Collection:
Develop hardware and software solutions for the real-time data collection including bar coding, manufacturing process reporting and statistical analysis.
9.
Installation:
Install hardware, operation systems, network systems, and software. This service can be priced to provide as little or as much start-up training as may be desired.
10.
Programming:
Modify and maintain existing application programs.
11.
Implementation:
Configure, customize, and test system installations.
12.
Technical Support:
Provide hardware, software and network support to increase the client's knowledge base.
13.
Maintenance:
Diagnose and correct or replace faulty system components.
| | | |
| --- | --- | --- |
| Classification | Hardware | Operating Systems |
| Mainframes | IBM 4300, 3080, 3090 | MVS, VM, CMS, CICS/ICCF |
| Midrange | Sun, HP, DEC, IBM RS/6000, IBM AS/400 | UNIX, VMS, OS/400 |
| Microcomputers | PC, Macintosh | DOS, Windows 3.1 - XP, Unix, Linux, Novell, OS/2, Macintosh OS |